Step1. Set GPRS APN - send SMS command 600# to the tracker.
600#Password #APN#IP#User#APN_Password
(ex. 600#8888#airtelnet.es#0.0.0.0#vodafone#vodafone)
<Please check with your mobile operator for the APN data. You can find the right command in "Send my GPRS APN command".>
ˇ@
Step2. Set IP Address - send SMS command 999# to the tracker.
999#Password#ServerIP#Port
(ex. 999#8888#59.120.2.234#3000 - send the data to the server.)
<Go to http://www.gopass.com.tw; click ˇ§See My IP Addressˇ¨ to get the data.>
ˇ@
Step3. Set transmission time interval ˇV send SMS command 115# to the tracker.
115#Password#XX
(ex. 115#8888#20 - send back data each 20 seconds)
ˇ@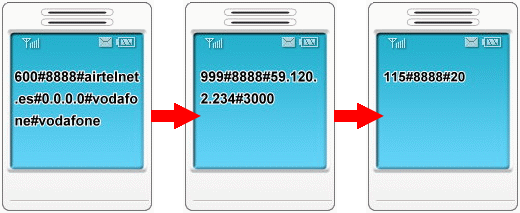 ˇ@